Who Is Jimmie Reign? The Bay's First Lady Prepares To Take The Recording Industry By Storm.
---
The Fist Lady of the Bay

JIMMIE REIGN hails from the Bay Area and is following in the successful footsteps of Bay Area native's KEYSHIA COLE, LATOYA LONDON and GOAPELE. Her single "Tryin' 2 Be Your Girl" is receiving radio airplay on the West Coast and she recently opened for Keyshia Cole, Latoya London and Bilal.

It's the beginning of Indian Summer in the Bay. D-boys are on the block in their crisp white – T's cautiously watching every passing ride. Longhaired youngsta's shake their dreads to the cities bustling soundtrack as tricked out Buick Regals and Oldsmobile Cutless Supremes smash up and down the street blastin' the latest hyphy joint. Moments later you hear a sweet but street song broadcasting from the speakers of a purple - painted scraper. The melodic voice and familiar tune capture you. The music ends as the DJ interrupts. The song is entitled "Trying To Be Your Girl". The muse of the ode that spoke straight to your heart? That answer is a little more complex.

Take the sex appeal and beauty of Aaliyah, the writing prowess of Alicia Keys, then add the vocal talent of Tamia and you've almost figured it out. Emerging directly on the heels of the new-found success of E-40 and Too Short who helped bring the Bay lifestyle back into the nations consciousness, JIMMIE REIGN has been swiftly blazing up the Bay Area's radio charts with her debut single "Trying 2 Be Your Girl" featuring Clyde Carson of The Team. To some it might seem like instant gratification but her rise to the top has been nothing of the sort.

JIMMIE started singing and penning hit songs professionally at the tender age of 14. Since then she has worked with producer Brian Morgan (SWV), Terry Ellis of En Vogue, producer Paul Anthony of Full Force (Backstreet Boys), and Danni Stevenson (singer featured on Nelly's "Hott in Herre") among others. Recently she has been working on projects with Damon Eden, A&R for Atlantic Records, whose credits include Pretty Ricky & Trick Daddy. It was during one of the "Damon Eden Sessions" the hit single "Trying To Be Your Girl" was born.

"I can remember sitting with Damon at his apartment and he threw on that Camp Lo sample. We were trying to come up with some songs to submit to Lea (Lil' Flip's "Sunshine") but I had horrible writers block. I got home and had a really bad argument with my then, boyfriend. I remember saying to him "Can't you see how hard I'm trying to be your girl?"…I wrote the hook in about five minutes. Damon loved the finished product and when it came time to discuss what song I'd use as my own single, there was no denying that "Tryin' To Be Your Girl" would be it. At that point I got Clyde Carson of The Team to lace the track. He then took it to Bay Area DJ Big Von at KMEL and it has been in rotation ever since."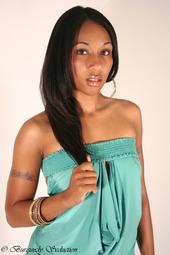 The Fist Lady of the Bay

"Mix show DJ's instantly felt the "Luchini" sample and the song quickly became a listener favorite. As JIMMIE's buzz and her single continue to spread across the nation, she is becoming a highly sought after performer all over California as the entertainment industry watches with piqued interest. Radio stations have been fielding calls from major recording industry executives who want to know "Who is Jimmie Reign?" The cream of the crop already know:

Jimmie Reign is my best kept secret. She is one of my favorite singer/songwriters because she sings with so much passion and her lyrics are so heartfelt. I don't know why she hasn't been put on yet!"
-Damon Eden, A&R, Atlantic Records

Fans share the same enthusiasm about JIMMIE and the diminutive songstress couldn't be happier.

"I never could've imagined that a song so personal to me would be something everyone would identify with. Now it's gone from being played once a day to being played at least three or four times a day. I love it! I am excited to be touching peoples lives and at the end of the day I just want to please my fans and have a long reign as a performer and songwriter. "

Get ready for the reign of JIMMIE !!!

Website: www.myspace.com/jimmiereign1
E-mail: jimmiereign@gmail.com
Phone: 510.698.6269

Top of Page



Copyright © 1999-2011 by FilmMakers.com. All rights reserved.
FilmMakers.com is a division of Media Pro Tech Inc.