Foreign Language Film Award Nominees Symposium
---



The 76th Academy Awards
Foreign Language Film Award Nominees Symposium
Saturday, February 28, at 10:00 a.m., in the Samuel Goldwyn Theater



Moderated by Mark Johnson, producer of Diner, Rain Man, A Little Princess and Galaxy Quest. Featuring representatives of the 2003 Best Foreign Language Film Nominees (subject to availability).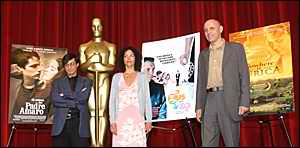 The directors of "El Crimen del Padre Amaro" (Carlos Carrera, Left.), "Zus & Zo" (Paula van der Oest) and the producer of "Nowhere in Africa"(Peter Herrmann) -- three of the five films nominated for Best Foreign Language Film for the 75th Anniversary Academy Awards.

From what began as a small and intimate gathering of film directors representing their nominated films in the foreign language film category, this annual forum has turned into an SRO event that is as entertaining as it it informative. Each year the Academy invites the five directors to appear live on-stage, accompanied by clips from their nominated foreign language films.

This year's symposium, as in the past, will take place the day before the Oscar ceremony. Moderated by producer Mark Johnson, it will bring together on one stage some of the world's top filmmakers, discussing such wide-ranging topics as art, politics and moviemaking. In addition to featuring film clips, the approximately two-hour event will also provide an opportunity for questions from the audience.






Top of Page



Copyright © 1999-2011 by FilmMakers.com. All rights reserved.
FilmMakers.com is a division of Media Pro Tech Inc.