The 11th Annual American Gem
Short Script Contest Winners
Winners | Biography | Logline | Interview | Script Excerpt


Brain Invaders from Planet X

American Gem Short Script Contest
10TH PLACE WINNER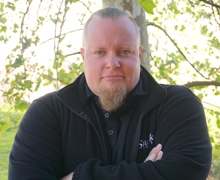 Short Screenplay
Brain Invaders from Planet X
Sci-Fi/Family
Paul Mitchell
of San Antonio, TX United States
Paul Mitchell
Paul Mitchell is a thirty six year old screenwriter living in San Antonio TX. Originally from the East coast, he grew up in a small town in central Pennsylvania. Paul studied theatre and acting at Wilkes University under the guidance of Adam Hill and Joseph Dawson. Just recently, he was a finalist at the Fantastic Planet Film Festival in Sydney Australia with his script Brain Invaders from Planet X, and placed third at the San Antonio Film Experience with his short film ďThis Little Heart of MineĒ

Paul is currently working as an acting coach for small upstart production company, Smoking Hare Productions.
A man whose brain tumor causes him to believe he's a fifties television character, shifts in and out of consciousness while in the hospital, switching between conversations with his family and battles in outer space.
I knew I wanted to be screenwriter when I when I found out that I couldnít be Indiana Jones. Ha ha... I realized I wanted the escape, the adventure, not the digging in the ground. I wanted to be able to create that for myself and for others.

I know I've succeeded when Iím able to write full time.


My inspiration to write Brain Invaders from Planet X stemmed from my father and his love of cheesy science fiction films. Weíve actually become closer watching these film. We always joke about it. ďHow can you watch this stuff?Ē ďAt least itís on TV sonĒ ďThanks dadĒ
Interview Part 1.
FilmMakers Magazine: What inspired you to write?
Darlene Inkster: At an early age, I wanted to create a world different from my own. A place where I could go and escape from my problems. I found that escape at the movies. I could, for an hour or two, spend time as an outcast looking for Pirateís treasure, or saving Princesses from dark lords in galaxies, far, far away. Why not create my own worlds and characters.

FilmMakers Magazine: Is this your first script and how long did it take you to complete?
Darlene Inkster: This is not my first script. I usually write with a partner, however, this is the first script Iíve written by myself. It took me five months, off and on, to finish. I tend to work on other ideas at the same time, to keep me spontaneous.

FilmMakers Magazine: Do you have a set routine, place and time management for writing?
Darlene Inkster: I usually write late at night. I work on ideas throughout the day, and by the time night comes around, they are pouring out. I walk around with a small notebook, so when an idea pops up, Iím quick to write them down.
FilmMakers Magazine: Do you believe screenplay contests are important for aspiring screenwriters and why?
Darlene Inkster: I do believe that they are important, because I love the feedback from someone, who is not family or a friend, someone that gives an honest opinion, be it good or bad.
FilmMakers Magazine: What influenced you to enter the American Gem Short Script Contest?
Darlene Inkster: Honestly, I found the festival when I was researching short screenplay contests through the website Moviebytes. I then read the raving reviews from past entrants. Everyone, had nothing but the best to say about the competition.

FilmMakers Magazine: What script would you urge aspiring writers to read and why?
Darlene Inkster: I just got done reading The Grand Budapest Hotel. As a reader, it was a very visual read, I could take what was on the page, and translate it easily in my mindís eye. Personally, I would read as many scripts as possibly. Practice makes perfect. See what worked for others and learn from that.

FilmMakers Magazine: Beside screenwriting what are you passionate about and why?
Darlene Inkster: I actually work on short films with a bunch of friends. We are very passionate about getting our work out there. Nothing beats the feeling of accomplishment from having an audience experience your film.

FilmMakers Magazine: Who is your favorite Screenwriter and Why?
Darlene Inkster: I donít really have a favorite. I always looking for a great story. Iíll read anything and everything, be it Film, TV, Anime, just take me somewhere.
FilmMakers Magazine: Name the director you would love to work with and why?
Darlene Inkster: Iím really into the works of Wes Anderson right now. His sense of style is all his own, he knows what he wants from start to finish. Plus, being a film maker myself, his use of the same actors hits home with my group of friends. Itís very summer stock.
If I could catch a live director, Kathryn Bigelow, Alison Anders or Jane Campion would be top of my list. Why? Because they are all brilliant, and it is ever so important for women in the film industry to support each other and promote diverse voices in popular culture.
Film is a collaborative art, and it all begins with a good script. Writers are seldom acknowledged, or rewarded, for their contributions to the most influential cultural medium of the 20th and 21st century. That needs to change, and womenís voices need to be heard loud and clear.
FilmMakers Magazine: Name the actor you would love to work with and why?
Darlene Inkster: There are so many great actors out there, itís hard to choose. Iím going to have to go with Jean-Claude Van Damme. Now here me out, I know he is known for his boots to face action flicks, but recently, I just watched his JCVD film, where he plays a stylized version of himself. There is a scene in the film, where he breaks the fourth wall and addresses the audience directly. He talks about his life and the mistakes that he has made, really exposing himself as Jean-Claude and as an actor. It was wonderful. I really would like to see more of that.

FilmMakers Magazine: Any tips and things learned along the way to pass on to others?
Darlene Inkster: To never give up, keep trying. Donít wait for someone to come along and hand your dreams to you. The only person that is going to make it happen is you.

FilmMakers Magazine: What's next for you?
Darlene Inkster: Iíve actually finished another short script,Ē War AngelĒ. Itís about a retired Army nurse, recalling a day during World War two that change her life forever.

FilmMakers Magazine: Where do you see yourself in five years from now?
Darlene Inkster: Hopefully, working full time as a screenwriter and filmmaker. To quote one of my favorite football coaches. ďBelieve deep down in your heart that youíre destined to do great things.Ē I certainly believe that. So watch out World!!
My other non-tip is to forget all the rules and just write the most compelling story you possibly can, in the most economical way feasible. If you enjoy writing it, you know youíre on the right path.
Copyright © 1999-2016 by FilmMakers.com All rights reserved.
FilmMakers.com is a division of Media Pro Tech Inc.