Thin Soapy Films Short Screenplay Contest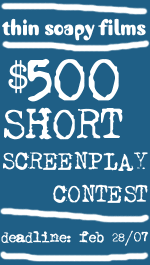 | | |
| --- | --- |
| Deadline | Entry Fee |
| February 28, 2007 | $5 CDN |

Award: $500 CDN
Other Awards/Prizes: Screenwriter credit on the produced film, of course; A share in any revenue the film generates over and above our costs to make the film; A copy of the film on DVD.
To find a short script that can be produced as a low-budget short film.
Notification Date: March 31, 2007.
Eligibility: Open to anyone.
Rules:
Entries must be received or post-marked by: Feb 28, 2007.
Fee $5 CDN (non-refundable)
Screenwriters must submit their material with the appropriate fee.
Multiple entries require separate application forms, release forms and entry fees.
Hardcopy contest entries will not be returned unless accompanied by an SASE -- do not send originals.
Although not mandatory, for your own protection, we advise registering your material with the WGC and/or copyrighting any material you submit.
Entries may be judged by any of the following: film-school graduates, free-lance readers, managers, executives, and producers.
Screenplays must be available -- meaning they must not have been produced, sold or optioned prior to or at the time of submission.
Screenplays must be the original work of the applicant(s).
Winner will be informed by mail, phone, and/or email. Cash prizes will be mailed.
The cash prize will only be awarded in exchange for the right to produce the film. If no suitable script is received, we reserve the right to extend the deadline of the contest or to cancel the contest.