The 1st International Rioja Campus
Short Script Competition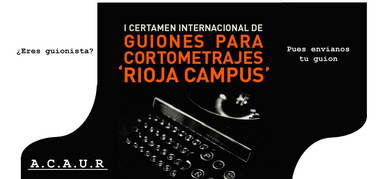 | | |
| --- | --- |
| Deadline | Entry Fee |
| February 28, 2005 | Free |

Award: 1000 euros

Other Awards/Prizes: Second Prize: 500 euros

The objective of the competition is both to promote young talent writers and to establish a filming team at the University of La Rioja (Spain), which will own the rights of the winning and finalist scripts for the next two academic years. Either the winning script or the finalist, or both, will be directed and produced by ACAUR members. In the case that no script is deemed good enough by the judges of the competition, no prize will be awarded. Those scripts that are possible to produce on a low budget (i.e., without excessive means, special effects or locations) will be considered in the first place. The winning and finalist scripts will be susceptible of being re-elaborated as well as translated or subtitled in the video or film version.

Notification Date: March 09, 2005

Eligibility: People over 18 and under 35 years old on 28 February 2005. Only one submission per participant is permitted. Original scripts in Spanish or English.

Rules: This is an abbreviated version: the complete rules can be found at http://www.unirioja.es/acaur/concursos/concursos.html. The short scripts must be original work and never before have been optioned, sold, or produced for profit in any form or medium. The topic is free (your choice). Adaptations from other works are permissible only provided royalties have expired. Submissions must be short (20 pages max.) and must appear on one side of the paper only (page size A4, double-spaced), font: Courier New, font size: 12. Margins: left margin: 1 1/2" (4 cm. aprox.); right margin: 1 1/2" (4 cm. aprox.); dialogue left margin tabulator: 2 1/2" (6,30 cm. aprox.); dialogue right margin tabulator: 2 1/2" (6,30 cm. aprox.); speaking actor´s name´s tabulator: 4 1/2" (11,30 cm. aprox.). The length of the short film must be between 5 and 15 minutes. The script must be only literary, without technical annotations. A one-page synopsis of your short film must be included together with the main text.

Web Address:
www.unirioja.es/acaur/
Contact & E-mail:
José Díaz-Cuesta
Contact Title:
Contest Coordinator
Organization:
University of La Rioja
Avda. Paz 93
Logroño, La Rioja 26004
Spain
Phone: +34 941 299 552
Fax: +34 941 299 419