Pitching the Perfect Crime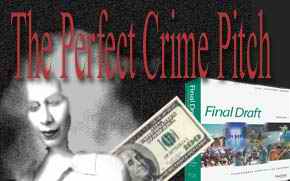 | | |
| --- | --- |
| Deadline | Entry Fee |
| September 15, 2004 | $20 |

Award: $100 dollars, story credit and Final Draft Software

Other Awards/Prizes: 2 Runner ups receive a promotional mug from the TV Series "Out of Darkness."

Prelude2Cinema is accepting pitches for its new TV series "Out of Darkness." We will give you the basic premise for the series, the cast of cops and other characters you must include in the story. The criminal(s) and the crime is up to you.

Notification Date: October 01, 2004

Eligibility: All Writers

Rules: Follow the writer's guideliness on the site in coming up with the pitch.