OutFest Screenwriting Lab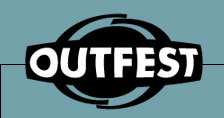 | | |
| --- | --- |
| Deadline | Entry Fee |
| January 27, 2006 | $25 |

Award: The authors of up to five (5) winning screenplays will be invited to participate in an intensive laboratory during which each will be paired with an established writer who will critique and encourage their work.

Other Awards/Prizes: Held in conjunction with OUTFEST, the Lab will also include sessions with other industry professionals, structured career development opportunities and participation in ongoing festival events.

In addition to participating in the three-day intensive Lab, competition winners will receive:
travel assistance within the continental U.S. (limited to one person per screenplay in cases of multiple authors)
housing in Los Angeles
OUTFEST festival accreditation

Nurturing emerging screenwriters and outstanding LGBT-themed screenplays.

Notification Date: May 31, 2006.

Eligibility: See website.

Rules:
Screenplays entered in this competition should display significant content or thematic material regarding gay, lesbian, bisexual or transgendered persons and/or issues. A submitted screenplay may not be based on pre-existing literary works unless these are the original work of the author(s) of the screenplay. The submitted material must not have been purchased or optioned for purchase by any established production company, motion picture studio or film financing entity.
This competition is open to anyone who has not received screenplay credit (shared or sole) on a feature film that has been released theatrically in the United States. Individuals are eligible to enter regardless of sexual orientation. This contest is not open to individuals in the following categories, nor to their immediate family members: employees of OUTFEST, members of its Board of Directors and judges of this contest.
Applicants must submit:
a. An entry form, completed in its entirety and signed by the applicant(s).
b. Three (3) copies of an original screenplay, between 90 and 130 pages in length.
c. A statement of up to one page (250 words) outlining career history and objectives of the screenwriter(s) as well as what they hope to gain from their participation in the Lab.
d. A non-refundable entry fee of US$25.00 (check or money order).
e. Optional: A self-addressed, stamped postcard for acknowledgement of receipt of entry.
Each applicant may enter only one screenplay each year. Screenplays entered in the contest in previous years may only be re-submitted once and they must have been revised since the previous entry.
SUBMITTED SCRIPTS WILL NOT BE RETURNED. It is therefore strongly recommended that applicants do not send original materials.
Format Requirements:
a. Screenplays should be written in screenplay format standard to the United States motion picture industry.
b. Screenplays should be suited to feature film production in their conception; television pilots and series episodes will be disqualified, as well as scripts formatted as "movies of the week" (with act breaks for commercials, etc.).
c. Screenplays should be typed or printed (dot matrix or laser printing are both acceptable) on white, three-hole paper and bound with two or three metal fasteners (brads). Text must only be on one side of paper. Card-stock covers are required to protect the script (see below). The spine of the script must not be covered (i.e. the page edges should remain visible). Pages must be numbered.
d. IMPORTANT: The card stock cover must be blank or contain no more than the title of the script. A title page, following the card stock cover, must contain the applicant's identifying information. The applicant's name must not appear on any page following the title page; no other identifying materials may appear on the script. (The title page will be removed before the script is forwarded to judges, so that each script may be read anonymously).
e. No additional materials should be attached to the script (e.g. letters of recommendation, story synopsis, alternate pages, character list, mention of awards or production, etc.).
All entrants will be notified of competition results by May 31, 2006.
Entering the contest constitutes permission to use the entrant's name and likeness for publicity and promotions.
Although not necessary at time of entry, OUTFEST encourages writers to register their material with either the Writer's Guild of America or the U.S. Copyright Office. Writer's Guild East: (212) 767-7800. Writer's Guild West: (323) 951-4000. U.S. Copyright information: (202) 707-3000.
Any disputes or questions regarding the application or effect of these rules shall be resolved by the Board of Directors of OUTFEST, whose judgment shall be binding and final on all parties.

Web Address:
http://www.outfest.org
Contact & E-mail:
Susan Linn
Contact Title:
Administrative Director
Organization:
OutFest Screenwriting Lab
1125 N. McCadden Pl., Suite 235
Los Angeles, CA 90038
United States
Phone: 323.960.9200
Fax: 323.960.2397