Middle Skool Scripts Short Script Contest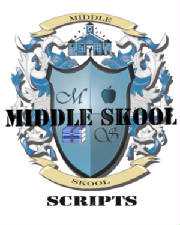 Deadline
Entry Fee
April 29, 2007 (early)
June 26, 2007 (final)
$30 (by 4/29/2007)
$35 (by 6/26/2007)

Award: $3000
Other Awards/Prizes: s
The grand prize winner will recieve cash and a chance to turn the short into a movie with help from the middle skool scripts production team and a budget of up to $15000.00 to produce the movie.

Second place winner will recieve $1000
To give one lucky writer a chance to actually see their work as a movie.

Just mail a short screenplay(minimum of 15 pages, no longer than 30 pages) along with the official Contest entry form, a Middle Skool Scripts Release form, and the submission fee to Middle Skool Scripts. visit the website for more information.
Notification Date: September 20, 2007.
Eligibility: Any short script between 15 and 30 pages that has not been produced or distibuted by non- independent means.
Rules: Screenwriters who have had previous screenplays produced and distributed by non-independent means are ineligible.

Screenwriter/s must sign the Middle Skool Scripts Release Form on the application printout and include it with their submission to be considered at any level of competition

Screenplays must be in English, formatted with 12-point courier font.

We only accept checks made out to MIDDLE SKOOL LLC that draw funds from an American bank and Money Orders or Traveler's Checks in US funds.

Checks returned to us for whatever reason will incur a standard $25 fee on top of the original entry fee that must be paid, even if you choose to pull your script from the competition.

Web Address:
www.middleskoolscripts.com
Contact & E-mail:
Lamarr Williams
Contact Title:
President
Organization:
Middle Skool LLC
P.O.Box 694206
Miami, FL 33269
United States
Phone: 305.785.5534
Fax: 305.620.5177