Big Bear Lake Film Festival
Screenwriting Competition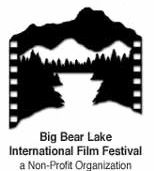 Deadline
Entry Fee
February 07, 2009 (early)
March 02, 2009 (regular)
April 01, 2009 (late)
$30 (by 2/07/2009)
$35 (by 3/2/2009)
$40 (by 04/01/2009)
Award: Beyond Structure seminar; Scriptwriters network membership; read by several producers/agents/mgrs

Other Awards/Prizes: All finalists receive final draft software
2nd place--script consultation from Story InSight.

Promote good screenwriting and give winners and finalists opportunity to be read by active industry producers, agents and managers.

Notification Date: September 7, 2009

Eligibility: open to anyone

Rules: feature length screenplays, 90-130 pages, English only, must submit entry form and release form with entry.

Web Address:
http://www.bigbearlakefilmfestival.com
Contact & E-mail:
Sandy Steers
Contact Title:
Screenplay competition coordinator
Organization:
Big Bear Lake International
P.O. Box 1981
Big Bear Lake, CA 92315-1981
United States
Phone: 909.866.3433