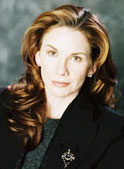 New York City—November 15, 2002—After completing four days of joint meetings of AFTRA's Strategic Alliance Committee and SAG's AFTRA Relations Committee, Presidents Melissa Gilbert and John Connolly issued the following statement:

"Over the past four days our committees received an extensive presentation from SAG CEO/National Executive Director A. Robert Pisano and AFTRA National Executive Director Greg Hessinger, on the state of our unions, and the state of the changing media industries in which we work. The facts presented make it clear that we must work together in order to best serve our members and that jurisdictional battle lines benefit only our employers.

Our committees formulated the following Mission Statement:

In the face of rapid industry and technological changes, the committees recognize the urgent need to develop constructive strategies that will maximize the strength and solidarity of all AFTRA and SAG members.

The committees will continue meeting."

Members of the AFTRA Strategic Alliances Committee include President John Connolly, Los Angeles President Susan Boyd, National Board member Denny Delk, National First Vice President Bob Edwards, National Second Vice President and New York President Anne Gartlan, National Board member Matt Kimbrough, National Board member Roberta Reardon, former National President Shelby Scott and National Board member Tom Wiggin. (Alternates include Bernie Alan, Bobbi Bates, Dave Browde, Suzanne Burkhead, Lainie Cook, Wendell Craig, Jim Ferguson, Dan Frick, Ed Fry, Janette Gautier, Jason George, Jon Joyce, Dick Kay, Frank Maxwell, Mitch McGuire, Ron Morgan, Dan Navarro, Joyce Reehling, Sheldon Smith, and Sally Steve.

SAG's AFTRA Relations Committee members are President Melissa Gilbert (co-chair with Connolly), and national board members Barbara Bosson, James Cromwell, Maureen Donnelly, John Fleming, Kevin Kilner, Anni Long, Mike Pniewski, Mitch Ryan, with alternates Bruce Boxleitner, Trista Delamere, Morgan Fairchild, 2nd Vice President Eileen Henry, Michael Monks, KJ Sanchez, and Nancy Sellers.