ENTER ONLINE | | RULES | AWARDS |TESTIMONIALS |

Top 50 scripts will be read by the Radmin Company*
and Consideration for representation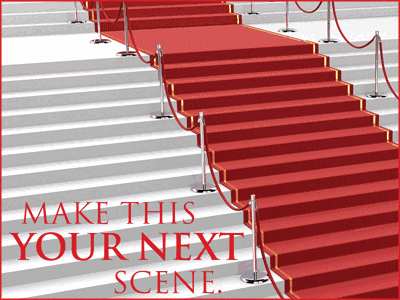 Top 20 Screenplays: Production Consideration by Leading Hollywood Producers and Representation Consideration by Leading Hollywood Agencies/Management Companies.
Emerging Artist Award (trophy) for Best Screenplay of the Year
Emerging Artist Award (Plaques) for Best Screenplay in a Category (1, 2 and 3)
(awards may not appear exactly as shown)

FULL LENGTH FILM OR TELEVISION MOVIE SCRIPTS IN ANY GENRE
CATEGORIES
Category 1 (in any of the following genre): Action/Adventure; Thriller/Horror/Supernatural; Sci-Fi; Animation/Fantasy; Mystery/Suspense)
Category 2: Drama
Category 3: Comedy
'Most screenwriting competitions give writers a chance to win prizes and money. That's cool but what writer's REALLY want is for someone to make their script into a film. Filmmakers awards prizes and money but more importantly, it gives writers exposure to industry personnel who can actually take the script from the page to the screen. That exposure sets Filmmakers apart.

Heather Ferrell



'Filmmakers' was one of three competitions a friend in the industry recommended.

Debra Vance



Script Magazine and HollywoodLitSales comment on this contest from time to time. After entering it once, I was hooked by the professionalism of the staff and by the feedback provided through the announcement of results. It matters knowing at what point your script falls short, if it does. It helps the learning process.

M.D. McCarthy



FilmMakers has an excellent reputation in the contest circuit, and has lived up to it. FilmMakers also offers more than just cash prizes, though we love those, too. Getting our scripts into the hands of people who can make them into movies is the real prize.

Anita Skibski



A lot of the competitions out there are for cash prizes only. FilmMakers.com was one of the few that really encompasses everything a writer strives for. With FilmMakers, you enter into the competitive realm of Hollywood with the ability to get your script read by professionals in the industry, with the chance to obtain representation. It's also one of the few forums that does not discriminate on geographical location. The contest is open to writers from around the world so you are literally competing against the best.

Jud Richards



Thank you and everyone else at Filmmakers.com for all you've done on my behalf so far. I am indeed truly grateful... I'm very pleasantly surprised by all the activity your contest has generated... Almost immediately after THE SECRET BOY became a winner in your contest, it was optioned by KONK Productions and director Chris Koch (whose feature credits include "Snow Day" and "A Guy Thing")... I want to thank you once again for running such a terrific contest - it's really helped make a difference.

Whit Rummel



This is one of the few verifiably good-intentioned, astute and rewarding competitions out here, where there is a genuine intention for the good and favor of the writer. It's not about taking advantage.... There is a sincere commitment to see the committed writer succeed with the FilmMakers.com & the Radmin company screenwriting contest. And at best they want to be your benefactor. And at worst, the conduit to your inevitable success. What more can one ask?

Damilola Olorunnisola



There aren't many contests run by people who actually know what it takes to write a script someone might want to produce. FilmMakers and The Radmin Company are both grounded in the realities of filmmaking.

Lorelei Armstrong



It's always nice (and rare!) to get such positive feedback..... Just wanted to drop you a note of good news and thanks. After winning the filmmakers.com contest, I've had a lot of doors open to me that were previously unthinkable. More specifically, thanks in part to the contest win, combined with the interview on the filmmakers.com website I was able to pitch a romantic comedy idea to Harbor Light Entertainment -- and this month they optioned it. (Harbor Light currently has a deal at Paramount with Morgan Freeman attached). I'm not sure I would have been able to get the attention I got if not for your contest. So, thanks again for all your hard work!!! I really appreciate it.

Christian Parkes


My experience from last year's entry in American Gem, an off-shoot competition for shorts managed by FilmMakers, was handled very well. Secondly, based on personal feedback, Moviebytes lists FilmMakers as one of the best run and most influential. The other thing is the depth of prizes. Many contests only offer first, second and third, FilmMakers lists numerous as well as having the Top 20 and Top 10. This makes a difference when you approach someone with your script.

Marc Calderwood


1) Grand Prize Winner: $ 2,500 Cash
2) Elite Prize Category: $500 Cash
3) Elite Prize Category: $500 Cash

Grand Prize Winner receives a Bronze Pass which includes admission and pitch meetings at the Great American Pitch Fest to Hollywood PRODUCERS and AGENTS looking for and accepting scripts written by unproduced / unrepresented writers.
+
receive a a copy of Movie Magic's Screenwriter by Write Brothers.

Three Elite Prize Winners
receive a copy of Movie Magic's Screenwriter by Write Brothers.
Top 10 will each receive Emerging Artist Award Certificate***
All runners-up will each receive CERTIFICATE OF ACHIEVEMENT CERTIFICATE****
***EMERGING ARTIST AWARD
(Digital format)
****CERTIFICATE OF ACHIEVEMENT AWARD
(Digital format)

Late Deadline: July 31st
Resubmission Deadline: TBA
please send us a request.
| | | |
| --- | --- | --- |
| # of Pages | Entry Fee | Deadlines (mm/dd/yyyy) |

125 or less

$

49

Early deadline (by 2/28/2018)

126 or more

$

55
Early

deadline (by 2/28/2018)

125 or less

$

55

Regular deadline (by 4/30/2018)

126 or more

$

59

Regular deadline (by 4/30/2018)

125 or less

$

59

Late deadline (by 5/31/2018)

126 or more

$

65

Late deadline (by 5/31/2018)

125 or less

$62

Final deadline (by 6/30/2018)

126 or more

$

67

Final deadline (by 6/30/2018)

125 or less

$65

Final ext. deadline (by 7/31/2018)

126 or more

$69

Final ext. deadline (by 7/31/2018)

125 or less

$65

WAB deadline (by 7/21/2018)

126 or more

$75

WAB

deadline (by 7/21/2018)
ENTRY FEES AND DEADLINES FOR RE-SUBMISSIONS
| | | |
| --- | --- | --- |
| 125 or less | $ | Start date: TBA | End date: TBA |
| 126 or more | $ | Start date: TBA | End date: TBA |
Notification date: 1st round qualifiers notified on October 31st.

*The Radmin Company, a Beverly Hills literary management and production company and they represent screenwriters, directors and writer/directors including Todd Alcott (ANTZ, WONDER WOMAN, SAMURAI JACK), Cinco Paul & Ken Daurio (SANTA CLAUSE ll, BUBBLE BOY), Trey Ellis (TUSKEGEE AIRMEN, GOOD FENCES), Matthew Weiss (NIAGARA, NIAGARA), Michael Lindsay-Hogg (LET IT BE, OBJECT OF BEAUTY), Johannes Runeborg & Johan Brännström (SLEEPWALKER), and Victoria Arch (DIRTY DANCING: HAVANA NIGHTS). The Radmin Company has produced TWISTED for Paramount (directed by Philip Kaufman, starring Ashley Judd, Samuel L. Jackson, and Andy Garcia), THE NEXT BEST THING, also for Paramount (directed by John Schlesinger, starring Rupert Everett and Madonna), and the big screen version of THE FANTASTICKS for MGM