From www.filmmakers.com


Indies
Producer Alycia Kaback of VIP Talent Connect Announces Opening of THE MANDALA MAKER in May
By Michael James
Apr 6, 2009, 15:24



Sam Borowski; Photo by Samuel M. Sherman

Alycia Kaback, owner of VIP Talent Connect, is executive producer of THE MANDALA MAKER, which, according to The Staten Island Advance, is "expected to be a major contender in the live-action short category for the 2010 Academy Awards." Written, directed, and produced by Sam Borowski, and co-written by Gregory Nissan, THE MANDALA MAKER tells the story of Naomi, a woman who attempts to overcome tragedy by painting Tibetan Mandalas, circular designs psychologists, including the legendary Carl Jung, will tell you have "healing" powers. While painting these designs, Naomi summons the courage to face her past, and walks a spiritual journey toward enlightenment.

Featuring a cast unlike any other short film, THE MANDALA MAKER is ripe with recognizable faces and names. Robin Anne Phipps, an award-winning actress, worked behind the scenes getting her first associate producer credit after a knee injury lead to her being replaced by Courtney Hogan in the lead role of Naomi. Daniel Roebuck (LOST, MATLOCK, AGENT CODY BANKS franchise, THE FUGITIVE, US MARSHALLS, THE LATE SHIFT and starred alongside Keanu Reeves in Indie hit RIVER'S EDGE) plays a mysterious character in THE MANDALA MAKER, only known as The Other Person. Playing leads opposite Hogan are Tony-winner and Emmy-nominee Terrence Mann (Beast in BEAUTY AND THE BEAST and star of Sci-Fi Network's THE DRESDEN FILES) as the Chief Curator of The Rubin Museum of Art and Conor Timmis as Naomi's frustrated boyfriend, Eric.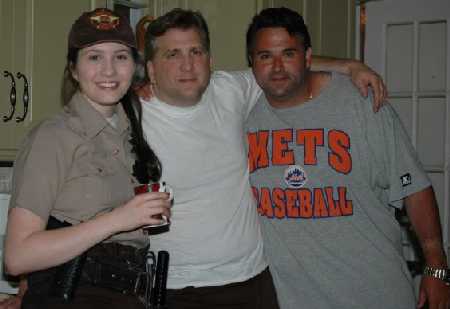 Robin Anne Phipps, Daniel Roebuck & Sam Borowski. Photo by T. Phipps


Rounding out the cast are Yangzom Brauen (supporting role in PANDORUM, Dennis Quaid's new Sci-Fi epic) and Eric Stein, otherwise known as America's Player on BIG BROTHER 8. Robert Pralgo (recurring role in ARMY WIVES and supporting role in Demi Moore's new film, THE JONESES) also joins the project.

THE MANDALA MAKER will open in Los Angeles in late May in order to officially "qualify" for the Academy Awards. It has also been accepted to several festivals, with an artistic eye towards several Academy-eligible festivals in the summer and early fall.



© Copyright 2003 by www.filmmakers.com