From www.filmmakers.com


Film
AMG Films Inks Five-Year, First-Look Distribution Deal With Warner Bros. Home Entertainment Group
By Karen Brundage
Mar 7, 2011, 15:11




AMG Films, a wholly owned division of AMG Holdings, announced today it has inked a five-year, first-look deal with Warner Bros. Home Entertainment Group for television, DVD and digital rights in the U.S. and in select foreign territories.

The first of the films, all of which will be released by Warner Home Video (WHV), will be the animated 3-D feature The Lion of Judah, hitting screens in 1,000 domestic theaters this spring through a distribution agreement with Rocky Mountain Pictures. The film features the voice talent of stars Scott Eastwood (Invictus, Gran Torino, Pride, Flags of Our Fathers), Michael Madsen (Donnie Brasco, Kill Bill, Vols. 1 & 2, Reservoir Dogs) and Ernest Borgnine (Red, The Wild Bunch, The Dirty Dozen, Marty, From Here to Eternity, TV's McHale's Navy).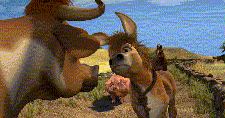 The Lion of Judah

The Lion of Judah – which tells the Easter story through lovable stable animals' eyes – was produced by Animated Family Films, the animation arm of AMG Holdings, and has already garnered a groundswell of support and anticipation through churches and faith-based organizations.

Stated Tom Lucas, WHV's VP Marketing, Theatrical Catalog, "We are delighted this deal has come together and we welcome AMG's high-quality slate of titles to the Warner Bros. library – starting with the charming and family-friendly The Lion of Judah."

Commented Tim Warren, President of AMG Films, "This is a significant milestone in our young company's history. We are excited to be partnering with Warner Home Entertainment Group for the release of The Lion of Judah and on our entire slate of animated and live-action films."

www.lionofjudahthemovie.com,

Other films in development/production at AMG include:

• An African Tale, a $30 million-budget, animated, family feature telling the story of a life-changing adventure, during which the offspring of the jungle and plains animals overcome decades of mistrust and enmity, setting in motion a chain of events that will change their entire land forever.

• Bethlehem or Bust, the $12 million-budget prequel to The Lion of Judah – starring Borgnine, Omar Miller (The Sorcerer's Apprentice, 8 Mile), Alphonso McAuley (Pride, Glory Road) and world-renowned gospel singer Sandi Patti (The Lion of Judah) – to be released in 2-D and 3-D.

• Perfect Wave, a live-action film with a $10 million budget, is based on the true story of surfer Ian McCormack who travels to Bali in a quest to catch "the perfect wave," but dies when stung by a jellyfish. Experiencing both heaven and hell, he does indeed encounter the ideal ride before returning to life.

• Heart of a Man, the highly anticipated $65 million-budget period feature from AMG's live-action production arm, Prelude Pictures. The film is based on the real-life story of John Newton – famed 18th century, Caucasian seaman who was "gifted" to a West African princess as a slave – and the prequel to Amazing Grace.

• Our Father, a "dramedy" written by John Candy and Gene Quintano (in which Candy was slated to star prior to his death). The $15 million-budget film will feature numerous celebrity cameos by friends of Candy.

About Warner Home Video:
With operations in 90 international territories, Warner Home Video (WHV), a division of Warner Bros. Home Entertainment Inc., commands the largest home entertainment distribution infrastructure in the global video marketplace. Warner Home Video's film library is the largest of any studio, offering top quality new and vintage titles from the repertoires of Warner Bros. Pictures, Turner Entertainment, Castle Rock Entertainment, HBO Video and New Line Cinema.

About Warner Bros. Home Entertainment Group:
Warner Bros. Home Entertainment Group (WBHEG) brings together Warner Bros. Entertainment's home video, digital distribution, interactive entertainment, technical operations and anti-piracy businesses in order to maximize current and next-generation distribution scenarios. An industry leader since its inception, WBHEG oversees the global distribution of content through packaged goods (Blu-ray Disc and DVD) and digital media in the form of electronic sell-through and video-on-demand via cable, satellite, online and mobile channels, and is a significant developer and publisher for console and online video game titles worldwide. WBHEG distributes its product through third party retail partners and licensees, as well as directly to consumers through WBShop.com.

About AMG:
AMG Holdings was launched in 2010 by a team of veteran film industry executives and fortune 500 professionals. Under the AMG umbrella is its theatrical and DVD distribution division, AMG Films; animation production arm, Animated Family Films; and live-action production house, Prelude Pictures (The Perfect Game, Lost in Space). AMG – which, in addition to its current in-house slate, is also actively acquiring films – provides production, distribution, marketing, merchandising and other ancillary services. The rapidly growing company is headquartered in West Palm Beach, Fla.


AMG Films Website: http://amg-films.com/


© Copyright 2003 by www.filmmakers.com