From www.filmmakers.com


Screenwriting
Day Two at the Screenwriters Expo 3
By J. Freedman, FilmMakers.com
Dec 1, 2004, 15:39



Screenwriting Expo 3


Click here to enlarge picture

Conversation with Bill Lundy, president of the Scriptwriters Network

During Day Two at the Expo I explored the exhibitor room where publishers featuring books about how to write screenplays, direct independent film, market features, etc. had booths along with several major script writing magazine publishers, script consultant services, and writer's organizations.

Scriptwriters Network was ubiquitous throughout the expo and it's former chairman who is currently industry liaison, Bill Lundy, gave me a great overview of what organizations like his can do for writers who attend conferences like this.

The Scriptwriters Network has been around since 1986. It is a non-profit organization run by volunteers with about 700 members in the United States and abroad. Its mandate is to help members become working screenwriters.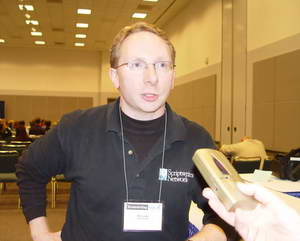 Bill Lundy -- photo by J. Asmar, FilmMakers.com

"Every advance I have made is due to this organization and I am now a produced screenwriter," Lundy told Filmmakers. "We are all about helping each other and we do that through (twice) monthly meetings with guest speakers on the industry and screenwriting craft side."

The organization also sponsors a screenwriting competition and provides professional written feedback on scripts. If the script is good enough, Scriptwriters will help the writer market it.
Click here to enlarge picture

"I just found out yesterday a script that went through this program was just optioned," Lundy says. Membership is $75 a year for people who live in the Los Angeles area, $65 a year for people who live outside L.A. and can't make it to the monthly meetings. The meetings are audio taped for members who can't physically attend. Although the price for the coverage or analysis hasn't been determined yet, Lundy says it will probably be around $60 for quarterly coverage. Sixty bucks for analysis of four scripts is a great deal by anyone's standard.

I asked Lundy what he thought about the Expo in general and how writers could make the best use of their time marketing or getting tips about how to improve and sell their scripts.

"The screenwriting market has exploded in the last ten or twelve years and there are a lot of people looking to make money off people's dreams, in my opinion," Lundy says. "We tell writers to be wary of what is out there and make sure the people you pay money to can actually help you because you can go broke buying books, going to seminars, signing up four courses online and things like that."

On that note, the pitch mart was the most active place at the Expo. Several hundred attendees lined up to pitch their scripts and story ideas to execs all three days of the Expo.

"It's all about relationships. Everyone I know who is working in the industry is working because of relationships. Everyone in this town wants to work with their friends."



Bill Lundy and J. Freedman -- photo by J. Asmar, FilmMakers.com


Click here to enlarge picture

As Lundy suggests, in a pitch meeting you only have a few minutes to tell someone your story and develop some kind of communication with them. That really doesn't build the kind of relationship that makes someone want to call you up to pitch your next script idea or work on a script polishing assignment. Those things happen when you are doing the infamous 'Hollywood lunch' with people and they can call you on the phone and meet you anywhere in town in a few minutes to gab, gossip, talk shop and do the thousand and one other things that establish you as their colleague.

Lots of people were getting lots of great information, tips, lessons, advice at the numerous seminars at the Expo. Just rubbing elbows with industry insiders and talking shop with other screenwriting aspirants was also very helpful to most attendees. However, as Lundy and most other experts said, you really have to be in Los Angeles to make it in the film industry. The Expo is a great learning environment where you can establish relationships with people who are after the same golden egg you are. But to really make things happen and fast track your career as a screenwriter, you have to be where the people who can make that happen for you are and that is in L.A.

Most execs, agents, producers and established writers I interviewed at the Expo told me the two indispensable elements writers need to make it in this industry are talent and the ability to self-promote or facilitate the relationships Lundy talked about.

"A lot of writers are very inward people," noted Lundy. "You have to get out and pitch and make those relationships happen but you also have to have the talent to back it up. If you make those relationships happen but you turn out a bad product you are going to lose that person."

Lundy added that if you don't naturally possess both of these skills, you are going to get weeded out and end up wasting a lot of time and money no matter how many Expos you attend or courses on screenwriting you take.

"The thing about self-promotion is that you can learn it," Lundy notes. "I took a class and learned how to promote myself but you can't teach the talent. You can teach craft but if you don't have the inner-voice, the real talent, then you're not going to make it because people out here can spot it a mile away."

That seemed to be the consensus in most of the seminars I attended or conversations I eavesdropped on at the Expo. There are thousands of aspiring screenwriters in the world and the ones who are most likely to make the sale and eventually get something produced are the ones who are in possession of innate talent and the gift of self-promotion.

Contact the Scriptwriters Network at: http://scriptwritersnetwork.com


Photos by J. Asmar, Filmmakers.com

No part of this web site may be reproduced, stored or introduced into a retrieval system, or transmitted, in any form, or by any means (electronic, mechanical, copying, recording, or otherwise), without the prior written consent of the publisher of this web site. Unauthorized use, copying, reproduction, uploading, downloading, posting, transmitting, distributing or duplicating or any other misuse of any material is prohibited.

© Copyright 2003 by www.filmmakers.com