From www.filmmakers.com


Indies
Allie-Way Films and Arbo Pictures join forces to produce "Cross The Line"
By Allie-Way Films, Inc
Sep 25, 2006, 17:14



"Cross The Line", is an Action/Drama about two police detectives. Angela Barnett (Tina Krause), who is a top rate narcotics detective and Joe Coletti (Albert J. Allie), who is a hard nosed homicide detective.

Both are going through a really bad divorce. Coincidence? Nope! Because they are the ones going through the divorce from each other. One case forces them, to have to work together. Set up and on the run from their own (The police) and a powerful drug lord who wants back what's rightfully his. He crosses the line to get it! Once that line is crossed....you can't go back.

Albert J. Allie and Allie-Way Films joined forces with Michael Arbouet of Arbo Pictures, to bring to life a new script written by Albert J. Allie. The film Cross the Line", which stars B-movie Talent and Beauty, Tina Krause and writer/Director Albert J. Allie, is a cross between moonlighting and Lethal Weapon.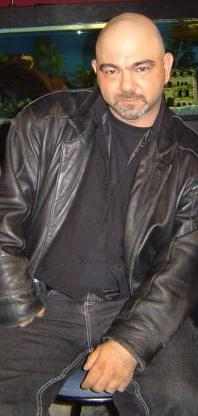 Albert J. Allie, Star, writer/Co-Director of Cross The Line

If you are a big Tina Krause fan, you're gonna lose it when you see her kicking some major bad guy butt, in this film. Krause plays "Angela Barnett". A divorced mother, who works as a narcotics detective. Allie plays her ex husband "Joe Coletti", who is also a detective, but in homicide. The ex couple are unhappily reunited, when an undercover bust goes bad.
Guests appearances are made by other actors, such as Debbie Rochon (American Nightmare/Witch House 3), Sal Sirchia (HBO's "OZ" and Knock Knock)

Allie says that casting Tina Krause as Detective Angela Barnett, was one of the best things about the film. "Tina is an exceptional talent. Give her a part and she will go beyond, what your imagination could ever dream up." Allie says. "This is a diferent Tina Krause than the b-movie world has ever seen. She just gets better and they can expect bigger things from her. Tina should not be categorized as a Scream Queen. She's an actress."
Allie plans to work on other projects, with Tina. He says they're in talks now and are mapping out their next move, while "Cross the Line" is being edited. View the trailer by visiting the Movies Official website.

Website: www.crossthelinemovie.com
E-mail: alliewayfilms@aol.com


© Copyright 2003 by www.filmmakers.com