From www.filmmakers.com


Indies
OUTSIDE THE COMFORT ZONE
By Hal Rifken
Sep 23, 2005, 15:12



The Making of a Documentary about Southern Drag Queens



Sometimes we documentary filmmakers get thrown into environments outside our usual haunts. 

For me, that's the excitement of the industry. Maybe you have to be the sort that needs to constantly be pushing the "not your routine" envelope. That attitude was without question helpful in the making of "Dixie Queen," which required our crew to be open minded and willing to suspend judgment.

If any of us had shown the slightest prejudice, it is certain we wouldn't have accurately captured this fascinating story.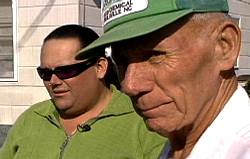 Tara Nicole as 'Eddie' and her father on the farm in Beulaville, North Carolina

She was born "Eddie" but now goes by "Tara Nicole."  She lives and works in the bucolic college town of Wilmington, North Carolina, but was raised 90 miles northwest on a tobacco farm. She weighs 300 pounds and threatens to use her heft if crossed.

I met Tara Nicole through Miles Christian Daniels, the then-producer for writer/director Paul Wilkes, with whom I had been shooting a series on model Catholic and Protestant churches in America.   

Miles was ending his five-year stint with Paul and approached me about doing a documentary together.  I suggested that he find a familiar subject in Wilmington, where he was living at the time. And since we were using company money, it had to be a pared down, bare bones topic.  He gave it some thought and came up with Tara Nicole, who in addition to doing drag, is a pre-op transgender (which translates into breast implants and – someday soon -- a major operation). 

Having just finished a year covering Christian and Catholic parishes around the country, it was no small shift in focus.  From somber masses and liturgical issues to a gyrating drag queen in over the top boas, well . . . 
 
But then, that's what makes this business so addictive, the "another fine mess" you allow yourself to get into. Let's do it, I said.  And so began a documentary eventually titled "Dixie Queen". 

If you've never seen a drag show or been around drag queens, you're missing something.  For one thing, I quickly learned that they're funny.  They're also bitchy, self centered, and if you cross them they have no compunction to scratch your eyes out. 
 
At first Tara and her entourage of drag sisters, fellow queens and drag "handlers", were as nervous around me and my crew as we were around her.  But as her story unfolded through Miles' gently probing interviews, we all slowly began to relax and trust each other.  These were, after all, people trying to live their lives in their own unconventional way, make a living through a tough business (entertainment), and survive as honestly as they could in an environment that often exploded in violence against the gay world. Wilmington is, after all, in the heart of the fundamentalist bible belt. 


Tara Nicole Performs at Ibiza Nightclub in Wilmington, NC

Relaxed, Tara and her friends were fun loving, connoisseurs of a wide range of music, partiers bar none, and pranksters who loved dishing on each other and anyone else who came within earshot.  We trailed her for 10 days over the course of two trips: following her to her doctor's office to see firsthand the sad story of her botched breast implants and her plans for further transgender operations; to the supermarket; to a BBQ chicken and corn on the cob dinner party she hosted for her friends.  We interviewed Tara's father and Aunt on the family tobacco farm and found them surprisingly accepting of her career choice and sexual orientation.  It was an unconditional family love that we did not expect to see.    

Tara Nicole and her sister performers took their jobs seriously:  This was show business, after all, which included scrupulous concern for makeup, costumes, choreography and how they were treated by management.
   
Tara showed an uncanny transformation from painfully timid to brassy as she applied makeup and hairpieces in preparation for her grand entrance at Ibiza, a Wilmington bar where she performed most nights to a mixed audience of gays and straights.  Over the course of the shoot she trusted Miles enough to reveal her life, which in turn is a fascinating window into a world often shunned not only by straights but the gay community as well.  

Miles did a Herculean job directing, interviewing and editing the 47-minute documentary which has enjoyed successful screenings at festivals around the country and which was recently picked up for distribution by National Film Network.  The film is also being used in a number of university and high school sociology classes that address gender issues. 

So, when you are next asked to be involved in a documentary that might seem a little off the beaten path of your own personal experience, don't think twice.  The making of "Dixie Queen" reinforced my contention that documentary filmmaking is probably the best profession for the terminally curious. 



Hal Rifken is a DP whose company, HM Rifken Productions
is based in Manhattan.

Website: www.HMRifken.com
Email: hal@hmrifken.com


© Copyright 2003 by www.filmmakers.com