From www.filmmakers.com


Film Festivals
That's a wrap: Curtain falls on fifth film festival
By Woodstock Film Festival
Oct 21, 2004, 21:11



WOODSTOCK - Each year, the Woodstock Film Festival gives its top award, the Maverick Award, to someone who embodies the festival's slogan - "fiercely independent" - and who supports both the pursuit of great artistic endeavors
and social conscience.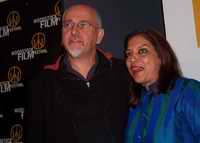 Peter Gabriel and Mira Nair - Photo by Adam Rejto

Mira Nair, this year's Maverick winner, received her award Saturday night from presenter Peter Gabriel. Past recipients have included actors Tim Robbins and Woody Harrelson.

Nair, a director best known for her films "Monsoon Wedding," "Mississippi Masala" and "Vanity Fair," told the elbow-to-elbow crowd at Legends in Woodstock that at age 19, in 1976, she spent her first weekend outside of
her native India - in Woodstock.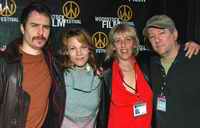 Sam Rockwell, Lili Taylor, moderator Martha Frankel and Peter Riegert - Photo by Gregor Trieste

FILMMAKERS, actors, writers and others in the film industry seemed to enjoyed this year's fifth annual Woodstock Film Festival as much as the thousands of attendees who packed the more than 120 film screenings,
seminars, concerts and special events held over the course of the past five days.

"Everyone takes good care of you, and it's really a pleasure. It's beautiful, and I hope the festival has more and more success," said actor, writer and director Peter Riegert, whose directorial debut, "King of the Corner," had its New York premiere at the festival.

"It's very positive," said Riegert, whose film career dates back to 1978, when he appeared in "Animal House."

"Obviously, all festivals share the same thing - that people will collect there if they like movies," Riegert said. "What I like about it (Woodstock) is it's small: It's one road in, and one road out, so you've got to want to
be here. ... People are enthusiastic. They seem to be really excited to be here."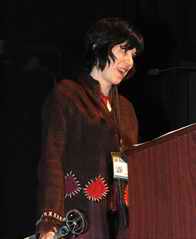 Debra Granick (Down to the Bone) accepts the Maverick Award for Best Feature narrative - Photo by Gregor Trieste

FESTIVAL participants also included actors Laura Linney, Fisher Stevens, Lili Taylor, Sam Rockwell, Melissa Leo and Matt Dillon (who made an unscheduled appearance at the Maverick Awards on Saturday), as well as people who work behind the scenes, including screenwriters Leon Gast and Ron
Nyswaner, animator Bill Plympton, and seven-time Grammy Award-winner Bela Fleck, who performed the opening-night concert on Wednesday and was the subject of a music documentary shown at the festival.

Fleck and his brother, filmmaker Sascha Paladino, spent much of the weekend in Woodstock.




"It's beautiful. ... I've been up here a bunch before, but I've never been here for the festival," Fleck said. "It's really fun. People have been treating us very well."

THE FESTIVAL was wrapping up Sunday evening with the presentation of awards for best feature, documentary, shorts, student short, cinematography, animation, short documentary and editing.

Website: www.woodstockfilmfestival.com

© Copyright 2003 by www.filmmakers.com