From www.filmmakers.com


Film
"Take Out" to WORLD PREMIERE During Upcoming Festival Season
By Dan Dominguez
Aug 29, 2005, 18:26



TAKE OUT stars Daniel Roebuck ("The Fugitive", "Bubba Ho-tep", "The Devil's Rejects"), Chase Masterson ("Star Trek: Deep Space Nine") and Justin Walker ("Clueless"). It features a cameo appearance by the President of the Gay & Lesbian Alliance Against Defamation (GLAAD) Neil Giuliano, who plays a U.S. Senator during the movie's surprise ending.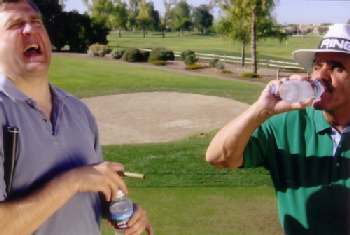 Daniel Roebuck, left, and Ken Kolb: they play two nefarious CEOs


The producers are starting to submit to film festivals in hopes of making a smashing 2006 fest circuit debut. Festivals that have been or will be submitted to for consideration include: 2005 AFI and the 2006 editions of Sundance, Slamdance, Aspen/HBO, New Directors New Films, SXSW, Tribeca, San Francisco, Gen Art, Seattle, Cannes, Los Angeles, CineVegas, Montreal Comedy Fest & Telluride.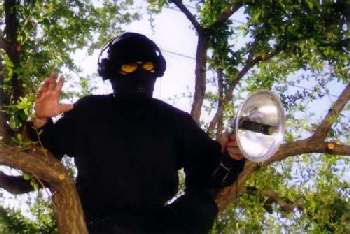 Commando, ever vigilant


First-time writer/director Seth Landau returned to his hometown of Phoenix, AZ to shoot the movie last year and post-production was wrapped in Los Angeles during the summer of 2005. Landau, a former member of the AZ, TX and CA media, used much of his reporter experience to craft the story of "Take Out", which centers around a fictional newspaper called "The Arizona Tribune" and its corrupt editors and surrounding business landscape. When one iconoclastic reporter, Zack Turk, decides to make a BIG change, the fast food industry is in for a whirlwind attack. Take cover Chief Beef, Ba Ba BBQ Texas Feeder, Greasy Greaser, Shalom Bagel, et al!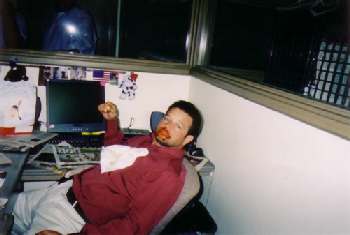 Justin Walker as sleazy newspaper columnist Don Libishitz


"Take Out" also features savvy performances by Judd Omen ("Pee-wee's Big Adventure"), Danny Zorn ("What Planet Are You From?", "I.Q."), Brent Taylor ("Starkweather") and Claire Titelman ("American Pie: Band Camp"); musical soundtrack includes Bang Sugar Bang, The Randies, Mr. Small and Midway.


Contact: Dan Dominguez
Email: takeoutmovie@yahoo.com


© Copyright 2003 by www.filmmakers.com