Director/Writer/Producer, Heather Robertson's CASTING ADRIFT hits Las Vegas for 7th screening
---

SCREENING:

PALMS CASINO RESORT – LAS VEGAS (4321 W. Flamingo Road)
Brenden Theatres – NY FILM & VIDEO FESTIVAL* Sunday, July 25 at 10:15 PM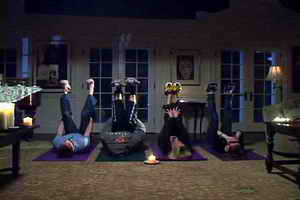 A Comedy Where Expectations, Good Taste and Shoes Are Checked At The Door

THE FILM - "Casting Adrift" is about Popstar Carlin Wilder's wild adventure casting her favorite unemployed soap opera actors to co-star in her feature film directorial debut. Rehearsals taking place in her East Hampton mansion for 2 weeks under strict instructions, no cell phones, companions or shoes.

Documented by a video crew onsite takes the groups' own reality beyond imagination, including Wilder's request to "Kiss The Bunny." The comedy stars Jamie Day, Dane Whitlock, Holly Perkins, Peter Cavanagh, Katy Barker and Erick Kastel.




Director, Writer, Producer, Heather Robertson on the set of "Casting Adrift"

ABOUT THE DIRECTOR * WRITER * PRODUCER, HEATHER ROBERTSON -Heather Robertson is a graduate of St. Paul's School and Georgetown University, where she received a B.A. in English Literature. She worked in television production's "talk" genre through 1996 then enrolled in the New School's MFA program in Creative Writing, making her way to New York Film Academy's Intensive Digital Filmmaking Course. Robertson's filmmaking thirst would be quenched when she met Dublin-native, John McKone. Collaborating on writing "Casting Adrift" launched Robertson into production in East Hampton, NY in February 2003, wrapping production in just 5 weeks. Robertson is the daughter of accomplished actors Cliff Robertson and Dina Merrill.





THE WEBSITE: www.castingadrift.com * TICKET INFO.MEDIA CREDENTIALS: www.nyfilmvideo.com

CONTACT FOR HEATHER ROBERTSON:: Stacey Kumagai 818-506-8675 -mediamonster@yahoo.com



Top of Page



Copyright © 1999-2011 by FilmMakers.com. All rights reserved.
FilmMakers.com is a division of Media Pro Tech Inc.