From www.filmmakers.com


Events
D.L. Hughley Returns To Host 2004 Trumpet Awards
By Turner Broadcasting System
Feb 19, 2004, 11:45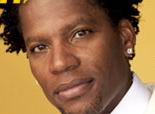 Comedian D.L. Hughley will host Turner Broadcasting System, Inc.'s 2004 TRUMPET AWARDS ceremony, to be held at the Omni Hotel Grand Ballroom in Atlanta Monday, Jan. 26, at 6 p.m. Turner Broadcasting's flagship entertainment network TBS Superstation will celebrate Black History Month by presenting coverage of the event Saturday, Feb. 21, at 7 p.m. (ET/PT). The TRUMPET AWARDS honor African-American achievers in fields as diverse as law, politics and entertainment.




The honorees and presenters for this year's TRUMPET AWARDS ceremony include:






Actress Angela Bassett (Film Trumpet Award, presented by Mykelti
Williamson)

Grammy-winning recording artist Isaac Hayes (Music Trumpet Award,
presented by Richard Roundtree)


Hip-hop legend Russell Simmons (Trailblazer Trumpet Award, presented by LL
Cool J)


Actress and minister Della Reese (Pinnacle Trumpet Award, presented by
Boris Kodjoe)


Producer, director and social activist Norman Lear (Humanitarian Trumpet
Award, presented by Michael Clarke Duncan)


Musician Jordan Adams (Rising Star Trumpet Award, presented by TBS
Superstation Movie & a Makeover host Mia Butler)


Elektra Records music label executive Sylvia Rhone (Echo Trumpet Award,
presented by Yolanda Adams)


Legal advocate and Federal District Court Judge Horace T. Ward (Civil
Rights Trumpet Award, presented by Rev. Jesse Jackson)


Businessman Don Barden (Entrepreneur Trumpet Award, presented by Nicole
Parker)


Physician and philanthropist Dr. Anthony Pollard (Community Service
Trumpet Award, presented by CNN's Dr. Sanjay Gupta)


Political and women's rights activist Dr. C. Delores Tucker (Leadership
Trumpet Award)


Danny Glover, accepting the Global Trumpet Award on behalf of its
recipient, former South African President Nelson Mandela



The show also includes musical performances by Issac Hayes, Yolanda Adams,
Gerald Levert and Tamia, Ruben Studdard and a special In Memorium Tribute by tap
dancer Savion Glover.



© Copyright 2003 by www.filmmakers.com