The 11th Annual American Gem
Short Script Contest Winners
Winners | Biography | Logline | Interview | Script Excerpt

A Father's Wish

American Gem Short Script Contest
2ND PLACE WINNER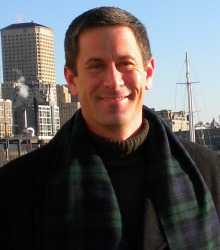 Short Story
A Father's Wish
Drama
Sean Corrigan
of Austin, TX United States
Sean Corrigan
Over the course of almost twenty years, Sean Corrigan has written ten feature screenplays, a dozen teleplays, and several plays. Corrigan has received over eighty awards for his writing, and has been a finalist or better twenty times in the most prestigious screenwriting contests in the world. He has won three screenwriting contests for three different scripts and has optioned five screenplays. Corrigan has had plays produced in New York City and Alexandria, Virginia.

In 2009, Sean was one of three writers in the country to receive a writing fellowship from the Austin Film Festival. He has been featured in Script Magazine's "The Writers You'll Wish You Knew When" section, and was spotlighted in Indie Slate Magazine and the Austin American-Statesman. He is a member of the Writers Guild of America.
A children's story about a young boy living on a farm who, after a tragic accident, learns how to heal and
discovers his father's wish.
I knew I wanted to be writer when I completed my first screenplay. I had always journaled or written poetry, and I did very well on my college papers, but I never wrote in a structured way that required such a long-term commitment. I started my first screenplay in November 1996 and was instantly hooked. I love developing temporary relationships with characters. I find it to be emotionally cathartic, and as I've gotten older, and family members have passed away, I've developed an intense fear of being forgotten. I do not have a wife or children, and I guess writing is my proof of life.

I know I've succeeded when all of my bills are paid from writing.

My inspiration to write "A Father's Wish"... I wrote "A Father's Wish" for my father who passed away in 2001. The story has been saved on my computer for fifteen years. This was the first time I shared it with anyone.
Interview Part 1.
FilmMakers Magazine: What inspired you to write?
Sean Corrigan: Initially I was at a stage in my life right after I graduated college when I felt completely lost. I had quit one job, got fired from another, and had no sense of direction. In the back of my mind I had always wanted to act and write, but it seemed so far-fetched (and I had no training). I finally had nothing left to lose, so in November 1996 I bought my first computer and began writing my first script. And the words just poured out of me.

FilmMakers Magazine: Is this your first script and how long did it take you to complete?
Sean Corrigan: Unfortunately, I didn't. Things were different in 1996 -- most people were not yet on the Internet. Resources were not available then like they are now. And third generation screenwriting software like Final Draft was in its infancy and was cost-prohibitive, so I wrote in MS Word which was a mistake. Honestly, I just started writing. I made hundreds of notes for ideas and dialogue on scraps of paper from temp jobs that I worked. Then I would lay them out all over my floor and organize them by scenes. It was a great adventure, but I spent hundreds of hours unnecessarily. I am a very efficient writer today, twenty years later.

FilmMakers Magazine: Do you have a set routine, place and time management for writing?
Sean Corrigan: No, not yet. Life is too busy, so I write as often as possible, but there is no way to dedicate a certain number of hours per day or week. A few months ago, I was very close to selling a feature script with Tommy Lee Jones interested in starring and directing. He and his team loved my script and gave my producing partner a bid for services, but after a few months it fell through around Christmas 2015. Once I eventually sell a screenplay, I will write every day. I have outlines for twenty scripts, but finding the time is a challenge.
FilmMakers Magazine: Do you believe writing contests are important for aspiring writers and why?
Sean Corrigan: Absolutely. Contests are really the only way to get agents and producers to read your work, unless you know someone in the industry.

FilmMakers Magazine: What influenced you to enter the American Gem Literary Festival?
Sean Corrigan: I was a finalist for American Gem in 2003 for another short script. I like how American Gem specializes in short stories, which is difficult to find. I have been successful with their contest in the past, so I think my writing style and sense of humor pair well with their judges.

FilmMakers Magazine: What script would you urge aspiring writers to read and why?
Sean Corrigan: William Goldman's Adventures in the Screen Trade or Which Lie Did I Tell?. They won't help you to format a screenplay, but they're such a wonderful insight to the business. A really good website for screenwriting that has myriad topics on style, story, and formatting is www.johnaugust.com (the same writer of Big Fish, Charlie and the Chocolate Factory, and Go).

FilmMakers Magazine: Beside screenwriting what are you passionate about and why?
Sean Corrigan: I am an animal rights activist and I rescue feral cats. Animals don't have a voice and the way some humans treat them is deplorable.

FilmMakers Magazine: Who is your favorite Screenwriter and Why?
Sean Corrigan: Aaron Sorkin. His dialogue is poetry. You can just listen to the dialogue and not watch the movie and still get a visceral reaction from it. And he has a certain playfulness to his dramas that most writers can't capture.
FilmMakers Magazine: Name the director you would love to work with and why?
Sean Corrigan: Tony Gilroy (Michael Clayton, Duplicity) and Jason Reitman (Up in the Air, Juno) come to mind. I enjoy their visual style and they don't clutter the screen with gimmicky shots. They are both great writers so they understand that the story is the most important aspect to filmmaking -- they allow for nice moments that linger a little. I see a lot of directors that are basically shooting a 100-minute music video which, for me, is jarring.
FilmMakers Magazine: Name the actor you would love to work with and why?
Sean Corrigan: Ben Foster, who is tremendously talented, seems to carry a certain pain or empathy that resonates in his characters. He always seems in the moment. I'm also huge fan of Ryan Gosling -- extremely talented, and could star in any movie he chooses, but he takes lead roles in small independent films (Drive, Blue Valentine, The Place Beyond the Pines). He really is an actor's actor.

FilmMakers Magazine: Any tips and things learned along the way to pass on to others?
Sean Corrigan: Read great scripts (read Alan Ball's American Beauty which is online -- the perfect example of how to write a tight, compelling screenplay). Learn to write economically and keep as much white space on the page as possible. I used to spend a lot of time demonstrating to the reader how smart I thought I was with my loquacious sentences and articulate words. It slows down the screenplay. Force people to turn the pages by writing as little as necessary. And move to Los Angeles if you want to be a professional screenwriter. I never did and it was a mistake. I have re-discovered many times over that filmmaking is as much about who you know as what you know. Unfortunately, connections will often trump talent. But, you still have to be a great writer to make it.
FilmMakers Magazine: What's next for you?
Sean Corrigan: Until Christmas, I thought Tommy Lee Jones was going to direct and star in one of my features, and my career would have been off to the races. In the last 18 months, I have won two screenwriting contests and placed 2nd in three other contests -- for five different scripts. After twenty years of writing, I believe that I understand how to write screenplays as well as anyone. My sensibilities are a little eccentric, but I understand the process and I am certain that I can do it professionally. I just need the break, which I thought I had. I am regrouping and plan to sell my home and move to L.A. in the next year or so.
FilmMakers Magazine: Where do you see yourself in five years from now?
Sean Corrigan: No matter where I go, there I am.
Copyright © 1999-2016 by FilmMakers.com All rights reserved.
FilmMakers.com is a division of Media Pro Tech Inc.