Screamfest Horror Film Festival
and Screenplay Competition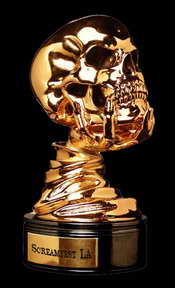 Deadline
Entry Fee
June 15, 2007 (early)
July 15, 2007 (regular)
August 15, 2007 (late)
$35 (by 6/15/2007)
$50 (by 7/15/2007)
$60 (by 8/15/2007)
Award: Winning screenplays will be read by literary agents for possible
Other Awards/Prizes: Winning screenplays will be read by literary agents for possible representation. Winners will also receive Movie Magic Screenwriter software.
To find the best scary horror scripts and films, both short and feature length.
Notification Date: October 2007
Eligibility: Open to anyone.
Rules: TERMS AND CONDITIONS FOR ENTRY SUBMISSION
Scripts must be registered with the WGA or copyrighted.

All entries must be postmarked by July 15, 2005. All entries must be complete, with all of the items on the checklist order completed to be considered for the submission.

Notification of acceptance into the 2007 film festival will occur no later than October 01, 2007.

Scripts must be bound and formatted correctly. Feature film script length should be at least 90 pages and not over 120. Shorts are not accepted. Scripts will not be returned.

Entry fees are non-refundable, and may be paid in the form of Visa, Mastercard, check or money order paid in US dollars, only through a US affiliated bank. A $2.00 processing fee will be added to all credit card payments.

All scripts must be accompanied by a one page synopsis.
Web Address:
http://www.screamfestla.com
Contact & E-mail:
Rachel Belofsky
Contact Title:
Festival Director
Organization:
Screamfest Horror Film Festival
8840 Wilshire Blvd.
Beverly Hills, CA 90211
United States